Wonderful review for 'Joseph' in Opera News
November 29, 2019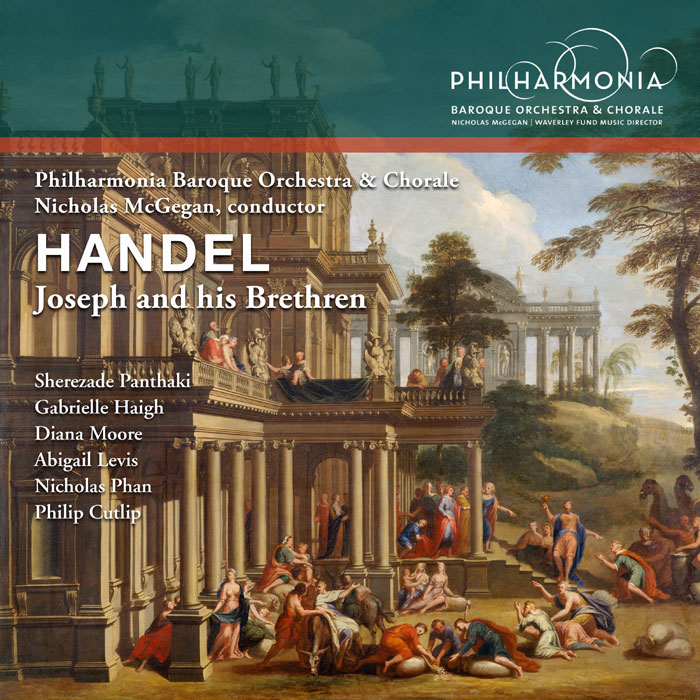 Philharmonia Baroque's latest disc with Nicolas McGegan - Joseph and His Brethren by Handel - continues to receive great reviews. The latest is from Opera News. I'm thrilled to have been picked out as leading "this recording's stylistically expert cast" and praised for "soothingly velvety timbre, elegant musicality and innate dignity."
FULL REVIEW FROM OPERA NEWS
THIS 1744 ORATORIO presents several episodes from the title character's sojourn in Egypt—his time in prison, his attaining Pharaoh's favor, his marriage to the lovingly supportive Asenath, daughter of Pharaoh's high priest, and his half-brothers' arrivals in Egypt, hoping for assistance when famine reigns in Canaan. The brothers, of course, had previously betrayed him, and the work's climax is his moving reconciliation with them.
The piece has been neglected because of James Miller's poor libretto. There's scarcely any genuine drama, and you have to pity singers compelled to utter lines such as "Fell monster, base ingratitude, avaunt!" and "Ah, jealousy, thou pelican." Joseph also, perhaps inevitably, has been overshadowed by multiple masterpieces from this same period, including Semele, immediately before, and Hercules, immediately after.
For all that, Joseph does provide ample pleasure. The score is irresistibly buoyant, especially in choral episodes and the arias of Asenath. One's ear is riveted by the soliloquy of Joseph's imprisoned half-brother Simeon, in which bursts of tension-laden coloratura aptly convey the character's apprehension. There's a sequence of three memorable arias in Act II: "The peasant tastes the sweets of life," Joseph's pastorale-style larghetto, with its unexpected but effective use of pedal notes; Simeon's "Impostor," with striking suspensions and a skillful mix of grandly expressive legato with intense declamation; and Asenath's "The silver stream," offering coloratura sung in unison with the orchestra and a mesmerizingly lovely legato B-section. The greatest highlight is in Part Three—Asenath's dazzling "Prophetic raptures," which deserves the attention of all accomplished Handel sopranos.
This recording's stylistically expert cast is led by mezzo-soprano Diana Moore's Joseph, with soothingly velvety timbre, elegant musicality and innate dignity. She also sounds delightful with soprano Sherezade Panthaki, as Asenath, who exudes a distinctive pearly tone. Her instrumental approach can obscure the text and distance the character, but her stupendous technical aplomb and flair for ornamentation leave the listener awestruck.
As Handel did, Nicholas McGegan assigns the two principal male singers two roles each. Baritone Philip Cutlip differentiates his characters, with full, hearty, imposing tone for Pharaoh (with precisely articulated coloratura) and an appreciable lightening of the sound for Joseph's half-brother Reuben. Tenor Nicholas Phan doesn't quite define two of the other half-brothers, Simeon and Judah. Less would definitely be more with this undeniably gifted artist, whose incisive textual delivery here tends to give every syllable equally vivid emphasis.
As Pharaoh's butler Phanor, mezzo-soprano Abigail Lewis lacks the necessary weight in this contralto role, but she sings appealingly, while soprano Gabrielle Haigh proves disappointingly pale-toned as Benjamin. Enhancing the performance immeasurably are the superbly proportioned, technically immaculate contributions of the Philharmonia Baroque and Philharmonia Chorale. —Roger Pines